Work Tourism: The Latest Trend in Employee Perks
March is the month when everything changed in the workplace. Many employees began working from home during the initial surge in COVID-19 cases, expecting to return to the office once the pandemic was brought under control—a timeframe that has only expanded as infections continue to soar. Working remotely isn't ideal for everybody, but it has led to a new employee perk: an ability to travel for extended periods of time.
The Pros and Cons of Working Remotely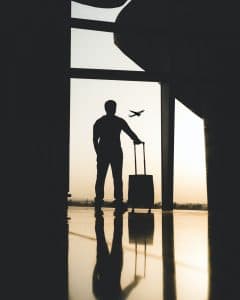 Eight months into a worldwide pandemic that shows no signs of abating, many employees are still working from home—and will continue doing so for the foreseeable future. Some companies are even hinting that this new working arrangement might even become permanent. In a great example of turning lemons into lemonade, some of these workers are taking advantage of the ability to do their jobs remotely by booking vacations to far-off lands. No ordinary vacations, these are turning into extended stays for many.
Remote workers claim that it makes no difference where they're working, as long as the job is getting done. Why not work from a tropical beach instead of that confining home office where you've been cooped up for months on end?
That depends on the company. Some organizations are setting policies requiring employees to be available to come into the physical office within a specified time period if requested—say, an hour or two. Others, eager to embrace flexibility and use it as a selling point to attract top talent, are offering it as a perk. And why not? It costs the company nothing. Indeed, for the majority of companies, so long as their employees aren't public-facing, it's a non-issue.
Even before the pandemic wreaked havoc with everyday life, many Millennials were already working from distant, exotic locales—digital nomads doing their jobs from all over the world. This practice has been coined "work tourism" and threatens to become more popular and accepted as we settle in for the long haul while dealing with the coronavirus.
It's not all fun and games and suntans and Mai Tais, however. Some work tourists are being more practical, using the flexibility to take care of family members living in other locations who might need assistance or companionship.
There are certain issues to consider, for both workers and employers. Tax laws may differ dramatically in foreign countries and time zones can create communication challenges. If your company is willing to embrace work tourism and grant employees flexibility, it's important to communicate clearly your expectations in advance. And because travel potentially increases the likelihood of contracting COVID-19, you'll need to address any safety concerns; this might mean adopting quarantine policies or even forbidding travel altogether.